Instructors
A Passion for Martial Arts — a Dedication to Teaching Them!
Thommy Luke Boehlig  "Sifu Thommy"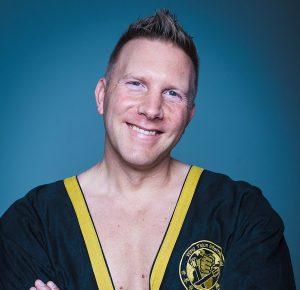 Thommy Luke Boehlig started martial arts at the age of 6, when he began studying Judo, followed by Shotokan Karate and Muay Thai.
In 1991 he started WT Kung Fu training, which would later become his profession.
During his lifetime he has been instructed by WT icons such as Grandmaster Keith R. Kernspecht, Sifu Emin Boztepe, Sifu Stefan Fischer, Sifu Hans-Peter Edel and Sifu Thomas Schroen.
In 1997 he successfully completed the Professional Training Course in Bodyguard/Close Protection at the IPSO Security Academy in Heidelberg / Germany.  In 2000 he founded his own security company "Proserv Security" with partner Christopher Nwazuoke.
He has served as bodyguard and close-protection professional for a variety of individuals and foreign dignitaries including the Vatican. He served as an international instructor for special police and military units in Europe and around the world.
In 2009 Boehlig, following Chinese tradition, assumed the title of Grandmaster of Wing Tsjun Kung Fu when his eldest student passed his master examination.
In 2010 his organization changed its name to "Boehlig Defense Systems" (BDS) and "Wing Tsjun International".  His organization currently has more than 80 schools in 15 countries.
Today, Sifu Thommy is considered to be one of the most influential figures in the international wing chun community.
He currently lives in Langenfeld / Germany and travels worldwide to teach and motivate others through martial arts. 
This is an abbreviated biography.  You can read Thommy Luke Boehlig's full resume on Wikipedia.